Main Street Auction Company & Estate Services

PERSONAL ESTATE AND PROPERTY SERVICES

WE ARE PLEASED TO OFFER COMPLETE PROFESSIONAL LIQUIDATION SERVICES - RESIDENTIAL AND COMMERCIAL

Whether it be a relocation, downsizing, change in life - Mainstreet Auction Co. & Estate Services can assist you with all your estate needs. At MSAUCCO we have experience in assisting clients during difficult situations.  We have experience with all property types including hoarder and distressed properties, farm properties, warehouses, etc. MSAUCCO can take care of all your estate and personal property needs with professionalism and care.

Our Service is all inclusive - We do it all !  We do not subcontract to other companies. There are no out of pocket costs - you pay nothing.   Our service fee comes from the sale proceeds.   We are motivated to work hard to get the most for your sale.   We are not successful unless we put you and your needs FIRST!   We are quick to respond!  Time is valuable to both our client and our business.   We work with several Realtors, Real Estate and Probate Attorneys helping clients manage their Estate needs.  How can we put our experience to work for you?

OUR SERVICES ARE OFTEN IMITATED BUT NEVER DUPLICATED !  OUR SERVICE PUTS YOU THE CLIENT FIRST - AHEAD OF ALL ELSE.   IF WE SAY IT - WE MEAN IT !

BEFORE YOU CHOOSE AN ESTATE SALE COMPANY - KNOW THIS - ESTATE COMPANIES ARE NOT REQUIRED TO BE PROFESSIONALLY LICENSED - SO WHO ARE THEY ACCOUNTABLE TO? HOW DO YOU KNOW THEY ARE ETHICAL AND LEGITIMATE?     MSAUCCO IS A PROFESSIONALLY LICENSED AUCTION COMPANY WITH THE STATE OF GEORGIA - WE ARE REQUIRED TO MEET CERTAIN STANDARDS OF PROFESSIONAL ACCOUNTABILITY.   DO YOUR HOMEWORK - KNOW WHO YOU ARE TRUSTING TO HANDLE YOUR ESTATE.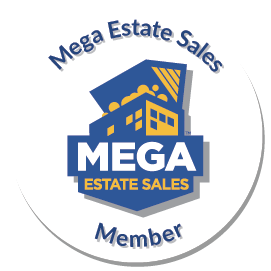 WE TAILOR SERVICES TO MEET YOUR NEEDS!

TAG SALE HOSTING: - Sale at property location - 1 to 3 days depending on size of Estate.  

MainStreet organizes and catalogs all property to be sold. Antiques and Collectibles are researched for current market value. Furniture and Décor are compared to current manufacturers to ascertain best sales price. All items are cleaned, priced and staged. All Furniture, Antiques, Collectibles, Jewelry and other items of value are photographed for digital inventory. All other items for sale are photographed in lots. MainStreet provides clients with a copy of the digital inventory for their records.

SECURITY & SAFETY: During sale business hours, Company will maintain controlled security. Public entry to sale will be via one point of entry and monitored at all times. Parking is controlled – driveway parking is for staff and loading purchases only – no public parking –public parking is street level only. The public will have no access to restrooms or other private areas so designated. MainStreet maintains the highest standards of customer service, however we do not tolerate unruly customers or their children. Parents must abide by MainStreet Estate Sale Guidelines or be asked to leave. MSAUCCO puts safety first ! We will safety tape all stairways and uneven pathways. We will provide extra lighting if necessary. MainStreet will block off all areas deemed hazardous to the Customer. All furniture removal will be coordinated handled by MSAUCCO staff only. 

ADVERTISING: MSAUCCO Advertises sale via multiple media throughout the whole state of Georgia and beyond ! You just never know who will come if you don't shout it from the rooftops ! Our marketing is extensive and includes hard print and online advertisers in local, regional, national markets.

AFTER THE SALE / AUCTION:  Does not matter how big or small, We do it all ! Sale location is cleaned, we remove all trash from  property.   We get our hands dirty so you don't have to! It is this service that appeals to many of our clients. Any items not sold at Tag Sale are auctioned for final liquidation. Depending on the size of the Estate - Final Auction takes place at the Estate immdediatly after the Tag Sale.  Home is completely emptied - usually less than 48 hours.  

We offer discount service rates for all Veterans. For a FREE consultation to see how

please give us a call today. We will schedule an appointment to fit your availability.

Please call Angelia Scroggins 770-366-1923- We look forward to meeting with you !

mainstreetauctionco.com / email: info@msaucco.com GA Lic # AU 003774

https://www.facebook.com/mainstreetauctioncompany/   mainstreetauctionco.com